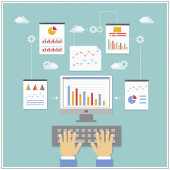 When you think business intelligence, you likely think about charts and graphs that reveal valuable data about your customers, profits, and operations. While these may be simple enough for some to understand, what if you could simplify your data even more? A new innovation in the business intelligence world may have just made this a possibility. Here's what you need to know.
Earlier this week, the Chicago-based company, Narrative Science, integrated with the business intelligence and visualization software company, Qlik. The fruit of this integration is a new way of looking at your data beyond your standard charts and graphs. Yes, charts and graphs are still used, but now there is a new element that comes into play: story. Qlik now enables businesses to take the data on their charts and graphs and automatically turn it into a narrative that will explain the most important and relevant points of their data. These stories are presented in easily understood, natural language and can be personalized to the audience who is reading them. For example, if you want to change the format, language style or detail of the story, you can easily adjust these.
How storytelling can help with business intelligence
While charts and graphs are easy to read for people who are regularly looking at them, there can be a learning curve for those who are new to the specific set of data they're analyzing. And when you are presenting a series of charts and graphs to a group of colleagues, it may be difficult for you to convey the data in an easily understandable way. This is why storytelling can be a vital tool with your business intelligence efforts.
Everyone can relate to a story. In fact people have been doing so since the stone age as evident by the carvings on cave walls depicting different tales. Today, all it takes is a simple click of your remote to see hundreds of different stories appear on your TV. Storytelling makes it easy to digest information for anyone. This is why both morals and ethics are often illustrated in parables or stories to convey their message. These stories that many of us heard from childhood, like the story of King Solomon who suggested cutting a living child in two to settle an argument or of King Midas and the golden touch, remain in the minds of many of us for a lifetime.
Stories stick in our brains. And they can make it easy to understand complex information, which can be especially helpful when it comes to data. This is why Qlik's new data to story function sounds so exciting. It aims to make it easier to present data in a more user friendly way. This will hopefully save time and headaches for people trying to understand complex data. Of course, since it is so new, only time will tell what kind of impact it will have and whether or not it will live up to expectation.
Want more of the latest business intelligence news? Need help making sense out of your data, or looking for other ways new technology can help? Get in touch with our IT experts today.
Published with permission from TechAdvisory.org.
Source.