Last Updated on July 29, 2019
In September 2017, Equifax alerted consumers that attackers had breached the company and stolen critical data on over 140 million people. This was one of the most drastic data breaches in history.
A few years later, Equifax has finally come to a settlement over this matter. If your information was stolen in this breach, you can claim compensation. Here's an overview and how you can apply.
A Recap of the Equifax Breach
In case you're not familiar with the Equifax breach from 2017, we'll offer a brief recap here.
Equifax announced in September 2017 that criminals had exploited a vulnerability in its website over the prior months to steal information. The stolen data included full names, Social Security numbers, dates of birth, and driver license numbers. Over 200,000 people's credit card numbers were also stolen.
We recently discovered a cybersecurity incident involving consumer information. Once discovered, we acted immediately to stop the intrusion.

— Equifax Inc. (@Equifax) September 7, 2017
Equifax's response to this was extremely poor. It set up a separate domain for people to check whether they were victims, which had a lot in common with a phishing site. The company's Twitter page even linked to a fake site in several official tweets.
In addition, a few executives at Equifax suspiciously sold their shares in the company before the breach was made public. They were later convicted of insider trading.
See our full post on the Equifax disaster for more information.
The Equifax Settlement
Equifax has agreed to settle a class-action lawsuit by paying out hundreds of millions of dollars to people affected by this breach. It hasn't received final approval from the court, but is likely to proceed.
To get started, you can visit the Equifax Data Breach Settlement site. Here you'll find some more information about your options and what you can receive reimbursement for. The deadline to submit is January 22, 2020.
Before you start filling out a claim, visit the settlement eligibility page to find out if your data was affected by this breach. You'll need to enter your last name and the last six digits of your Social Security number. If you were among those affected, you can proceed with filling out a claim.
Filling Out an Equifax Settlement Claim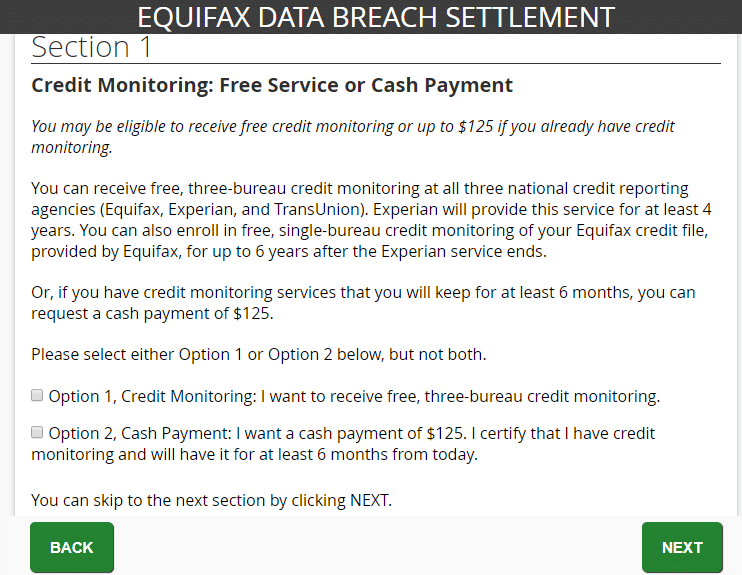 Once you've filled in your basic information, you have a few different options for receiving compensation from this settlement.
Section 1 offers you a free credit monitoring service for several years. If you already have a monitoring service, you can instead elect to receive a cash payment of $125.
In Section 2, you can receive reimbursement for time spent recovering from this incident. The settlement will pay you $25 per hour of time spent, up to 20 hours.
If you claim 10 hours or less, you only have to describe the actions you took to respond to the breach and how long they took. With claims of more than 10 hours, you also need to submit documentation proving that there was fraud or identity theft involved.
You can claim the time spent freezing/unfreezing your credit, recovering from identity theft, and purchasing credit monitoring services here.
Next, Section 3 offers reimbursement for money you lost or spent because of the breach. You can receive up to $20,000 if necessary.
Items to add here include costs to freeze and unfreeze your credit, identity theft protection services that you purchased, and money that fraudulent use of your identity costed you. You'll need to upload supporting documents, like credit card statements or receipts, for this section.
Finally, you can choose to receive your payment via a check or prepaid card.
Keep Your Identity Safe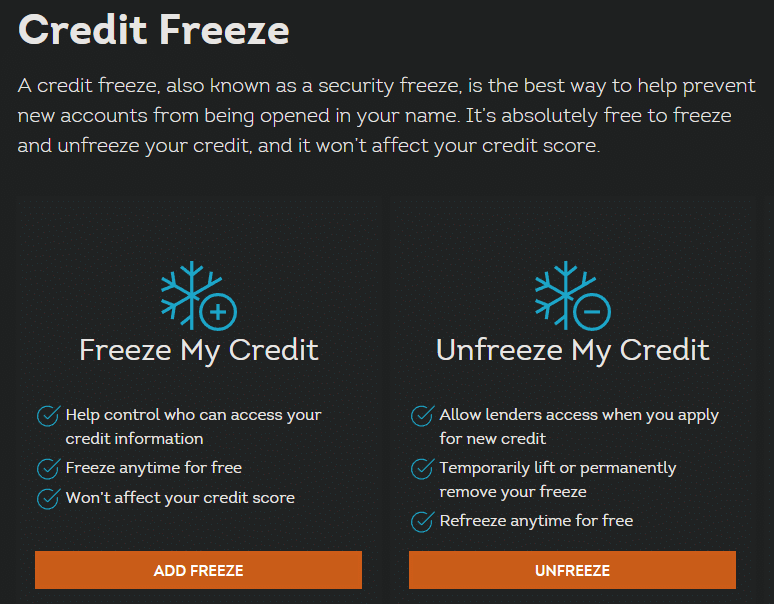 It's good to see Equifax being held responsible for their gross negligence during this breach. Losing this sensitive data affected a lot of people, so getting reimbursed for the fees to freeze your credit is at least something.
Whether you choose to enroll in the credit monitoring service or not, you should consider freezing your credit if you're concerned for its security. Doing so blocks creditors from accessing your file; you have to thaw it with your PIN each time you want to use your credit, such as opening a new credit card.
Unfreezing your credit when you need it can be slightly inconvenient, so it might not be the best option for you. However, it's now free across the US and makes it much less likely that a criminal will be able to use your identity.
For full protection, you must freeze your credit with each of the three major credit agencies: Equifax, Experian, and TransUnion. You'll need a variety of personal information to set up the freeze.
Use these links to freeze your credit:
For more on personal security, see our overview of the dark web and deep web.
Featured image credit: Nick Youngson/The Blue Diamond Gallery