Nearly every computer user will see a Low Disk Space message at some point. This is frustrating issue, especially if you're using a laptop with a tiny solid-state drive.
As it turns out, there are a few easy ways to free up a good amount of storage space in Windows that don't take a lot of effort. We'll show you the low-hanging fruit and how to free up a chunk of space next time this message pops up.
Run Disk Cleanup
Windows includes a built-in tool called Disk Cleanup. Its purpose is to remove old, temporary, and other unnecessary files taking up space on your PC. If you've used your computer for a while and haven't ever run it, you could reclaim several gigabytes of space.
To open it, just search for Disk Cleanup in the Start Menu. You'll first need to select which disk you want to run the cleanup on. In many cases, you only have one disk in your PC, so click OK and wait a moment for the scan to complete.
Once it's done, you'll see a list of data categories that Windows can erase for you. What appears here depends on your computer and the types of files on it. If you have administrator rights on your computer, you should first click the Clean up system files button to re-scan and remove additional types of data.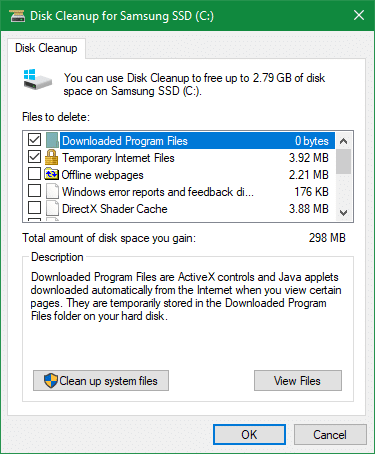 After the second scan, you'll get a complete picture of what Disk Cleanup can do. The top of the window lists the amount of total space you can reclaim using the tool, with each item showing its amount of space as well.
What to Delete in Disk Cleanup
In general, you can feel free to delete most types of data here without worry. However, while we won't examine each one in detail, there are a few entries you should pay close attention to:
Downloads: By default, your browser sends all downloaded files into the Downloads folder. If you check this box, Disk Cleanup will remove them all.
Recycle Bin: Uncheck this if you don't want Disk Cleanup to delete everything in the Recycle Bin. It's a good idea to do so if you think you might need to recover something in there later.
Previous Windows installation(s): If you've recently updated to a new major version of Windows 10, you'll see this entry until 10 days later. These files let you easily return to your earlier Windows 10 installation, so you shouldn't remove them until Windows does so automatically unless you really need the space and everything is working well.
Windows ESD installation files: Avoid deleting this, as these files make it easy to reset your PC in the Settings app.
Locate Large Files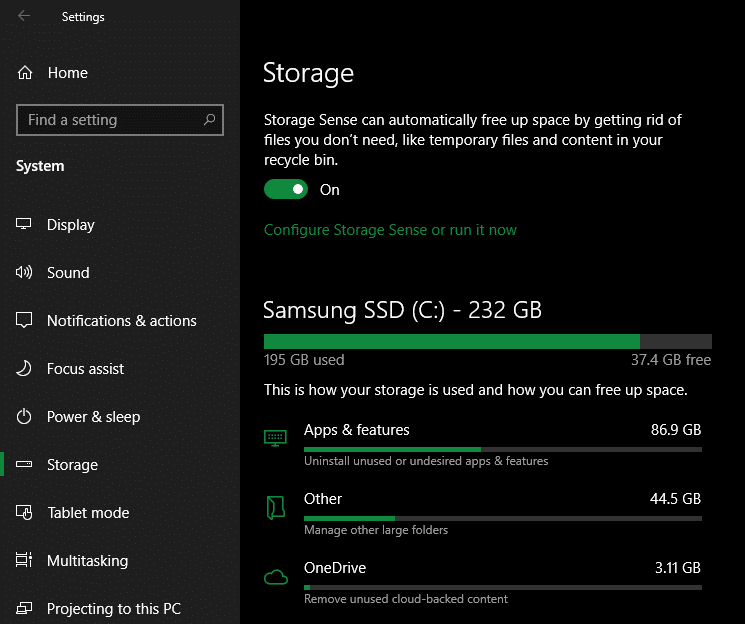 Once you've cleaned up useless junk files on your computer, the next step is to find large files of your own that you no longer need. Uninstalling large programs and deleting (or moving to an external drive) big files and folders will help you regain the most space in the least amount of time.
For a basic overview of what's taking up space on your PC, you can visit Settings > System > Storage. This will show you a breakdown of what's taking up space on your computer in categories like Mail, Pictures, and Apps. Notably, selecting the Temporary files entry here will let you clean up junk files, much like Disk Cleanup.
Getting Started With TreeSize Free
The built-in tool is decent, but TreeSize is a much more effective app for this purpose. It scans your entire storage disk and lists the folders taking up the most space at the top. Even better, it's free and doesn't bundle in any nonsense.
After downloading TreeSize Free, run the app. You'll need administrative privileges to scan your entire disk, so click Start TreeSize Free as Administrator in the top toolbar to restart the app with admin rights, if you have them.
Once that's done, click the Select Directory text to open a dropdown menu. It's best to start by scanning your entire main drive (likely labeled C:). If you're not an administrator, you can scan your own user folder instead.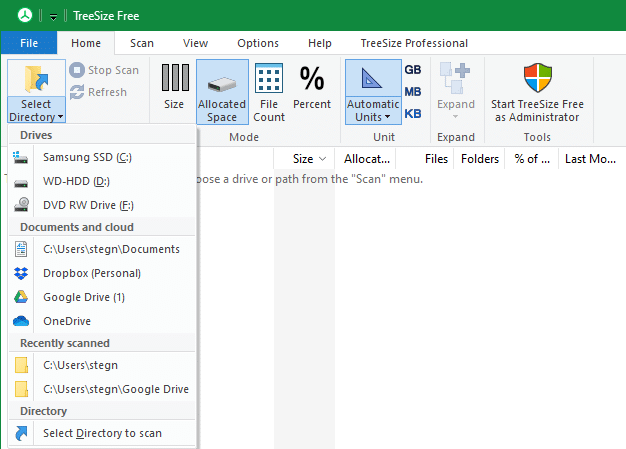 After a minute, you'll see a breakdown of exactly what folders use the most space on your disk. Chances are that the largest culprits will be the Users, Windows, and Program Files (or Program Files (x86)) folders. Since the Windows folder contains protected system files, you'll need to focus on the other two.
Eliminating Large Files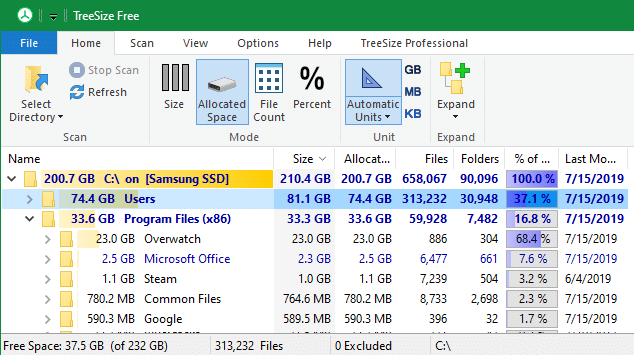 Inside Program Files (and/or Program Files (x86) on a 64-bit system) are most of the apps installed on your computer. Take a look at the ones using the most space—you should uninstall any that you don't use anymore.
To uninstall programs, head to Settings > Apps > Apps & features. Here you can click any app and choose Uninstall to get rid of it.
You'll likely have a large amount of data in your account folder under Users, too. This is where all your personal documents, pictures, and more are saved. You can use TreeSize's hierarchy to drill down and see where your biggest files live.
Aside from deleting them, you can move large files to another drive or an external drive, if you have one. If you have a lot of files from cloud storage, consider opening Dropbox, OneDrive, or your cloud storage app or choice to selectively sync files.
You can unsync any files you don't need regular access to, as they're always available using the web service. If you use Dropbox Business, give Dropbox's Smart Sync feature a try, which makes files available on-demand.
Cleaning Up Your PC Made Easy
There are other ways to clean up files on your PC, but these two steps will have the biggest effect. If you run Disk Cleanup and check on large files with TreeSize every once in a while, you shouldn't have to worry about "storage almost full" messages again.
For more cleanup, have a look at some unnecessary Windows programs you can safely uninstall.