Last Updated on January 7, 2022
Houk Consulting clients receive a report at the start of each month that details crucial information about your IT infrastructure. We're excited to announce that we've recently revamped these reports to make them even better for you.
In addition to a cleaner visual look, the new reports from N-Central have some other benefits. Let's take a look.
A More Intuitive Layout
The previous reports had a lot of information to digest, but it wasn't presented in the smoothest way. You needed to scroll around and view the different parts of the report to get a true snapshot of your overall IT health.
Now, it's much easier to find what you're looking for. Right from the start, you'll see the Overall Score section, which lets you check the various criteria at a glance. Continue scrolling through the report and you'll find breakdowns of that information.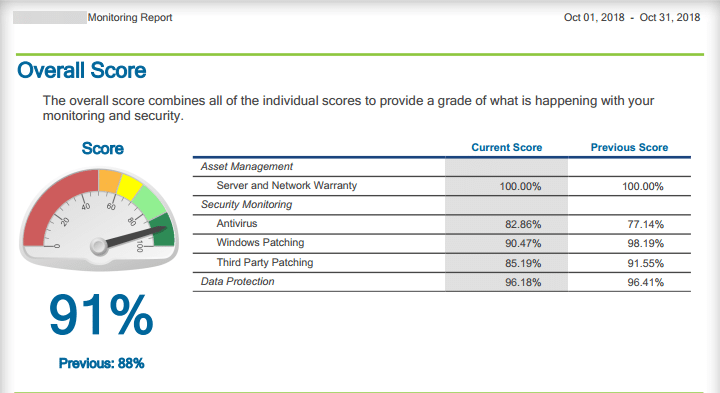 Each section has a scale that indicates how well that aspect is doing from 0-100%. For additional context, it also includes last month's score so you can compare recent changes.
Useful Information
A monthly report isn't too useful if it doesn't include the facts you need. Thankfully, these revised reports cut out some of the less important info and include new elements.
After the overall score, you'll find a Warranty Information score for both servers and workstations. This alerts you to how many device warranties are expiring within 90 days, or have already expired.
Next, you can view antivirus info. You'll see how many systems do not have an antivirus, and which ones they are, in order to handle that potential risk. Also related to security, you can check the status of Windows and third-party patches to see what's not up-to-date.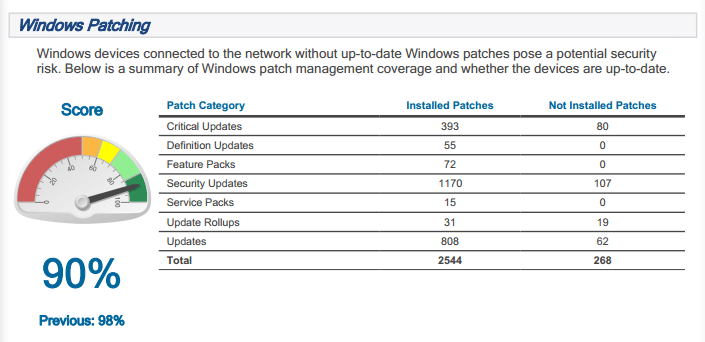 Continuing on, you'll see reports on device backups. This shows how many devices have completed backups (and their statistics), how many lack backup software, and the amount they've backed up.
Finally, at the bottom of the report, you can review your company's servers and workstations. Each one includes information on its hardware, OS, last user to log in, and more.
Less Technical Wording
Compared to the old ones, the revised reports don't include as much overly technical information. All the information discussed above is available in an easy-to-follow format. It doesn't require advanced technical knowledge, nor does it bog the report down with extraneous info.
The result is a report that you can browse through, understand, and use to take informed action if needed. We hope that you appreciate the new report format — look for it at the start of each month. And feel free to contact us with questions about anything in your report.