While nearly everyone has a smartphone, not as many people own a smartwatch. And while a smartwatch certainly isn't necessary, using one has lots of benefits.
If you've been considering a smartwatch or are just curious what they do, here are a few key uses for these wearables. They apply to most smartwatches, including the Apple Watch, a watch that runs Google's Wear OS, or something else.
1. Easy Access to Notifications
Your phone likely delivers a constant stream of notifications for texts, emails, updates from social media apps, and much more. Not only do these alerts break your focus, but taking your phone out of your pocket to view them all the time becomes tedious.
One of the simplest yet most useful applications of a smartwatch is seeing your notifications right on your wrist. Whenever your phone buzzes, you can take a quick glance at your watch to see if it's something important or not, which is a lot more convenient.
With many smartwatches, you can even respond to notifications more quickly than you would on your phone. For example, you can use the microphone to respond to a text message, or tap a canned response to acknowledge an email you received.
Plus, to prevent notifications from overwhelming you, you can choose which notifications to receive on your watch. This lets you see urgent alerts immediately, while sending less important updates to your notification center to view later.
2. Fitness Tracking Features
You probably associate names like Fitbit or Garmin with dedicated fitness trackers. And while those devices let you track your steps, exercise, and sleep, smartwatches do the same, plus more in many cases.
For example, the Apple Watch has built-in health functions that remind you to stand up throughout the day, encourage you to get 10,000 steps, and similar. If you want to take this further, you can use a range of popular fitness apps with the Watch to track and sync your fitness data.
Fitbit does sell some smartwatch/fitness tracker hybrid devices, such as the Versa series. But unless you're only interested in the fitness features, a smartwatch does a lot more. They integrate better with your phone for notifications and shortcuts than a Fitbit does.
3. It Extends Your Phone's Functions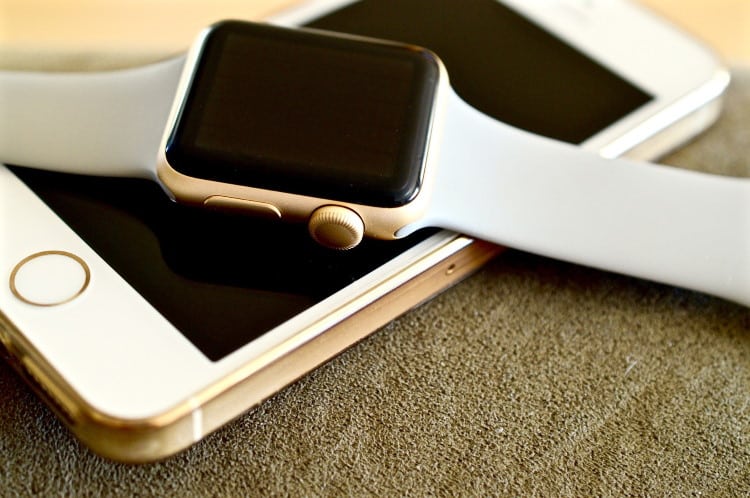 A lot of smartphone apps have companion apps available for smartwatches that make them more convenient to use. Some examples:
Navigation apps can send a vibration to your wrist to tell you when to turn right or left, letting you get around without looking your phone screen so often.
Use mobile controls on your wrist to change the track, play/pause, and similar while streaming music from your phone.
Send a command to ring your phone to find it when you misplace it in the house.
Use voice commands to set a timer or perform other common tasks.
If your watch has speakers and a microphone, like the Apple Watch, you can take calls and respond to texts using your voice.
Quickly see the weather, the UV index, and your calendar at a glance.
Quick access a calculator, timer, stopwatch, and other utilities.
While none of these are essential, they are handy and keep you from grabbing and unlocking your phone so often.
4. Easy Payments Without Your Phone
Most modern smartwatches include integration with Apple Pay, Google Pay, or another payment service. Using the NFC functionality of the watch, you can sync your payment cards to your wearable and use them to pay anywhere you see the contactless payments symbol. This is the same icon that indicates terminals that take payments from your phone or contactless card.
Conveniently, these payments even work when your watch is offline. That means you don't need to have your phone nearby to pay with your watch. So if you, for example, go for a run without your phone and want to stop to buy a bottle of water, all you need is your watch to complete the purchase.
5. Personal Security Features
Premium smartwatches, like the Apple Watch, also include features that can help keep you safe and might even save your life.
For instance, you can press and hold the side button on your watch to use the Emergency SOS slider to call 911 if you're in danger. This also sends a text to your emergency contacts letting them know that something is wrong. And if you need to call 911 secretly, you can hold the button longer to make the call without interacting on your watch's screen.
The Apple Watch Series 4 and later also have a fall detection feature, which is turned on by default for users over a certain age. If the watch detects that you've taken a hard fall, it asks if you're OK and displays a prompt to call 911. If you don't move and respond within a certain time, it automatically places an emergency call.
Finally, the Apple Watch can also let you know if your heart rate is irregularly high or low. For instance, if your rate goes over 120 BPM when you haven't been active recently, it will let you know something could be wrong.
Is a Smartwatch for You?
The above are just some of the benefits of smartwatches. And while they do offer some great features, smartwatches aren't for everyone. Their battery life isn't great, so you have to worry about keeping them charged regularly. Plus, if you're a light phone user, you might not find the functions of a smartwatch that useful.
But if the above features sounded interesting to you, consider giving a smartwatch a try. If you have an iPhone, the Apple Watch is the best choice; Android users can try anything that runs Wear OS or watches from Samsung.
If you end up getting a smartwatch and use it near water, you should understand device water resistance to avoid damaging it.