Google Contacts isn't one of the company's best-known services, but it's extremely handy. If you aren't already using it to store your digital address book, you should take another look at it.
Here are a few big reasons why Google Contacts is worth using.
1. Easily Sync Contacts Across Devices
It's efficient to maintain a single contact book, even if you use multiple platforms. You don't want to try sending someone an email only to find that you don't have all their contact details synced on your tablet.
Google Contacts make this simple. Its web interface is the best place to perform heavy management of your contacts book, but the service syncs to all major OSes too. As long as you can sign in with your Google account, you can access your contacts.
For instance, Google Contacts is the default contacts app on Android, so it of course works there. On an iPhone, if you sync your Google account to your phone at Settings > Mail > Accounts, you'll then find your Google contacts in the Contacts app.
Keeping your contacts in a cloud service like Google Contacts is a much better idea than storing them only on your phone, which is the default in some cases. A contact that's only on your phone will be lost if your phone is stolen or destroyed, and it's tedious to rebuild your address book.
2. Handy Contact Management Features
Keeping your contacts in Google Contacts means you get to take advantage of some handy functions. The best is titled Merge & fix, and lives on the left sidebar in the Contacts web app. This scans your contacts for duplicate entries and allows you to merge duplicated entries in a few clicks.
However, it also collects information about your contacts that you might have missed. For instance, if someone you email has their website and phone number in their signature, Google Contacts will offer to automatically add this information to the person.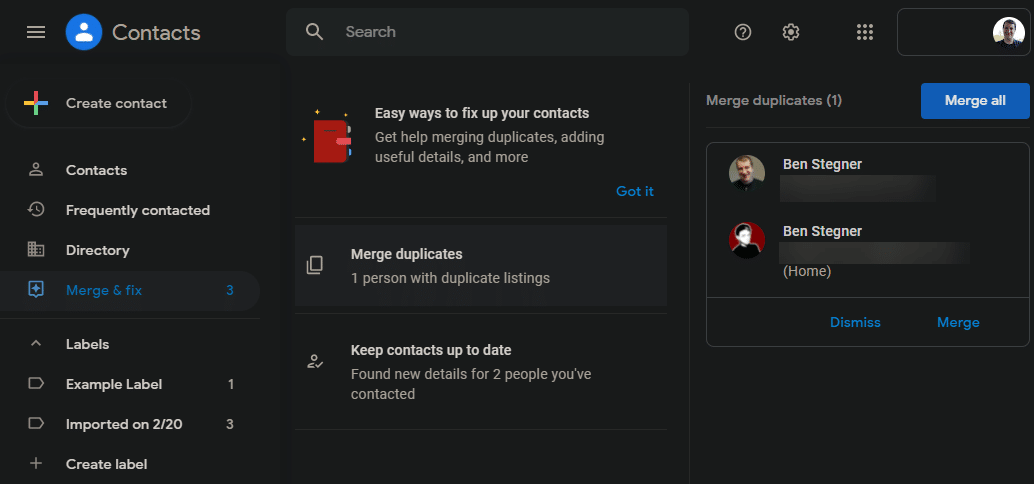 Google Contacts also makes it easy to export and import contacts. Exporting to a Google Contacts CSV file provides you with a backup of people in case something goes wrong, and it's easy to import a backup file or a list of contacts shared by someone else.
Finally, Google Contacts has Frequently Contacted and Other Contacts sections. The former makes it easy to see who you chat with most, while the latter collects people you've emailed in Gmail. They're kept there to auto-complete fields in Gmail, but you can easily move them to your main contacts list if you want.
3. It Ties in With Other Google Services
If you're a big user of Google's ecosystem, whether for personal use or work, having everything in Google Contacts makes your contact data easier to use.
Type a contact's name into Google Maps whose address you have saved, for example, and you can immediately tap their name to navigate. Add people's birthdays to their Google Contacts entries, and you can choose to show birthdays on your Google Calendar.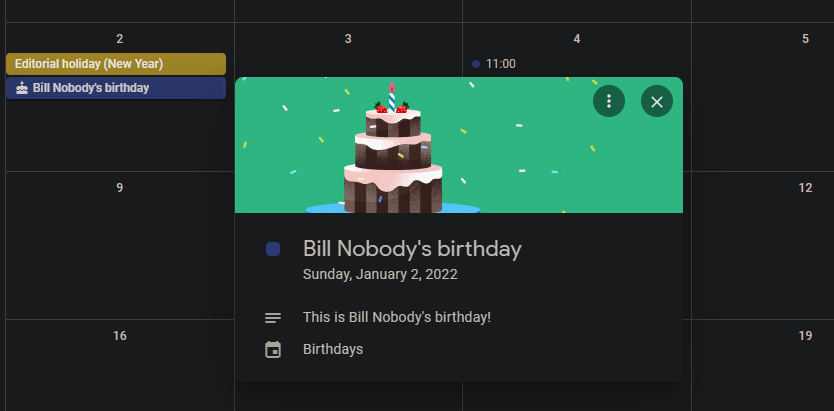 And we've already discussed how syncing your contacts across devices makes it easy to contact them through calling, texting, or messaging apps everywhere.
Google Contacts Is Convenient
Now you know about the benefits of Google Contacts. Having your contacts protected in a service that lets you do so much with them is worthwhile for anyone who has hundreds of entries to keep track of. And since Google Contacts lets you store loads of information about each person, you don't have to worry about tracking all that elsewhere.
For more handy Google services, see how to use Google Photos to protect your phone's pictures.