It seems like every service wants you to subscribe for all its features these days. And while $5 or $7 per month is reasonable for a service you use regularly, piling up a bunch of subscriptions can quickly become much too expensive.
Thankfully, a lot of services allow you to split a plan with other people in your household, or just friends. Let's look at some useful services that you can share with others to cut down the subscription price for everyone.
When you're buying for home use, Microsoft 365 Family (formerly called Office 365 Home) provides a much better deal than the Microsoft 365 Personal plan. For $100/year, up to six people get access to the full suite of Office apps across devices, plus 1TB of OneDrive space each.
Since the Personal plan is $70/year and only covers one person, you save when buying Family even if only two people will use it. And you can share your subscription with anyone you like—they don't need to live in the same physical household as you.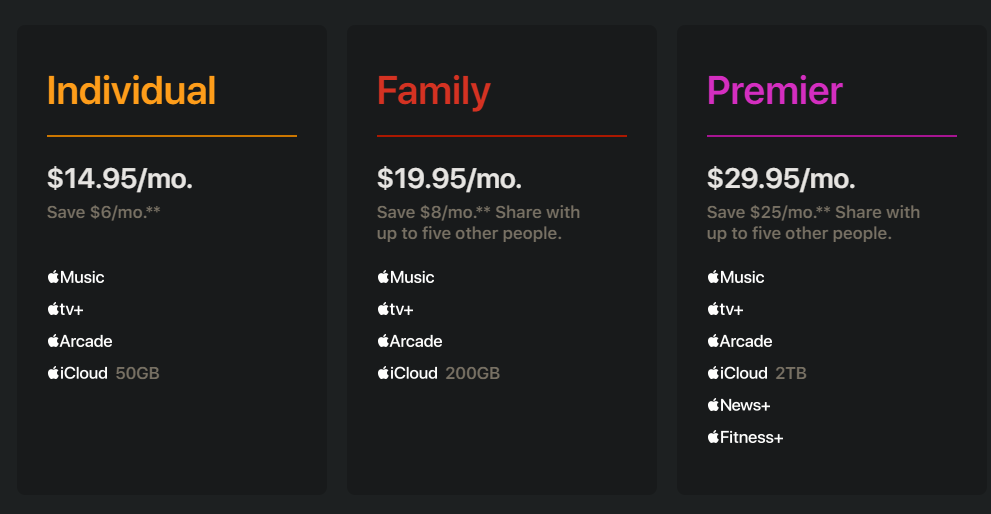 Apple One, announced in late 2020, is an Apple bundle that brings many of the company's services together. The Family plan costs $20/month and unlocks full access to the following for up to six people:
Apple Music
Apple TV+
Apple Arcade
200GB of iCloud storage
If you opt for the $30/month Premier plan, you get all of the above, plus Apple News+, Apple Fitness+, and 2TB of iCloud space (instead of the 200GB).
Since Apple Music's Family plan already costs $15/month (supporting up to six people) and Apple Arcade costs $5/person, this deal works out quite well if you go in with a large group. You don't need to live with the people you invite to your group, either.

If you're an Amazon Prime subscriber, you can share most of your Prime benefits with another adult in your Amazon Household. While you still keep your own accounts, they get a lot of your Prime perks without subscribing on their own.
Among the shareable Amazon Prime benefits are:
Prime shipping
Prime Reading's free books
Prime Video
Amazon First Reads each month
Early access to Lighting Deals
Unlimited storage in Amazon Photos
Some of these benefits are also shareable with teen accounts (13 to 17), but you can't share them with child accounts. Either way, getting what's essentially a two-for-one deal on Amazon Prime's $119/year price is attractive.
While Netflix doesn't offer an official family plan, which plan you go with affects how many devices you can watch on at the same time. The Basic plan is $9/month and only allows you to watch on one device per month, plus it doesn't include HD video.
However, if you go up to the Standard plan for $14/month, you can stream on two devices at once (and enjoy HD quality). Premium, for $18/month, has 4K quality and lets you watch on up to four devices at once.
By getting together on a plan with some friends, you can save a lot of money on Netflix and get better quality, too. And with separate profiles for each person, you don't have to worry about affecting each other's accounts.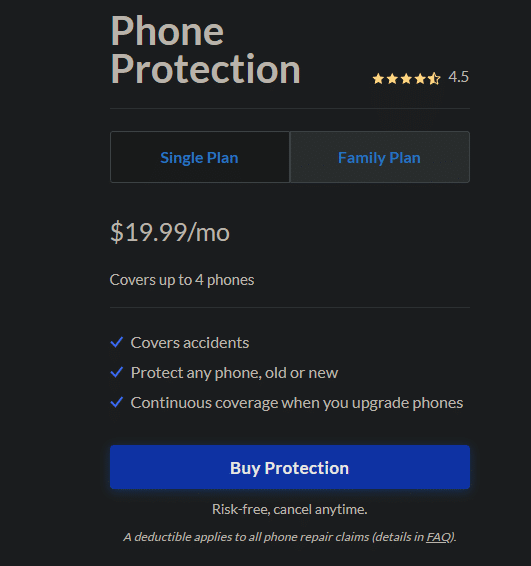 SquareTrade, now owned by Allstate, offers a smartphone protection plan that you can share with your family. No matter where you got your phone or how old it is, you can protect it from accidents and breakdowns. These include water damage, a cracked screen, the charging port failing, and similar.
The Single Plan costs $9/month for one device. If you choose the Family Plan, however, you get protection for up to four phones for $20/month. While smartphone insurance isn't necessary in all cases, it can save you a lot of money if you have an accident-prone family.
Share Subscriptions to Lower the Cost
With these and other subscriptions, you can cut down on your monthly charges while still using the services you want. Of course, if you share with non-family members, you have to either be in charge of collecting money from everyone or make sure you pay the account owner for your share. But for these kinds of savings, it's worth it if you join up with trustworthy friends.
Speaking of subscriptions, we've shown how to manage app subscriptions on Android and iPhone before.