Last Updated on January 7, 2022
For a while, Microsoft called Windows 10 the last version of Windows. It seemed like Windows 10 would become like macOS—updated with revisions regularly, but never really replaced with an all-new version.
However, it turns out that this isn't the case. Microsoft has now announced Windows 11, the successor to Windows 10. Here's what we know about the new OS so far, and how it will affect Windows 10.
What Is Windows 11?
Windows 11 is, as you'd expect, the successor to Windows 10, which will become Microsoft's latest desktop operating system. It was announced in late June 2021, shortly before the sixth anniversary of Windows 10's release.
As of this writing, Windows 11 is only available in its beta version through the Windows Insider program. The company uses this to let interested users test the platform before it becomes generally available.
What about for general public usage? Microsoft's blog post announcing Windows 11 says that it's expected to launch "this holiday," so it should be out sometime in November or December 2021.
What's New in Windows 11?
Windows 11 retains a lot of the elements of Windows 10, so it's not a drastic departure from what you're used to. Microsoft has unveiled some of the biggest changes coming in this version; let's quickly review them.
New Visual Design and Features
One of the first parts of Windows 11's design you'll notice is that the Start button and taskbar icons are centered, instead of starting at the left side. The Start menu is a bit cleaner and shows your recent files, no matter what device you were using them on.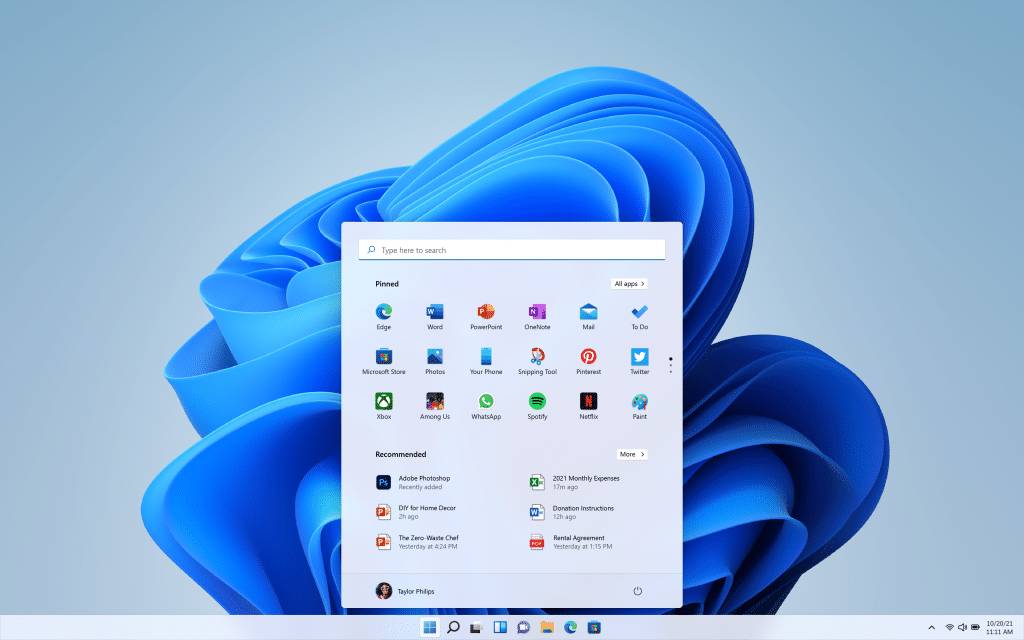 Windows 11 will also have better support for working with multiple windows and monitors. The new Snap Layouts feature lets you quickly pick from common configurations to arrange your open windows into, such as three narrow columns or four equal rectangles. Similarly, Snap Groups lets you save the layout of a group of apps, so you can easily open them all and put them where you want.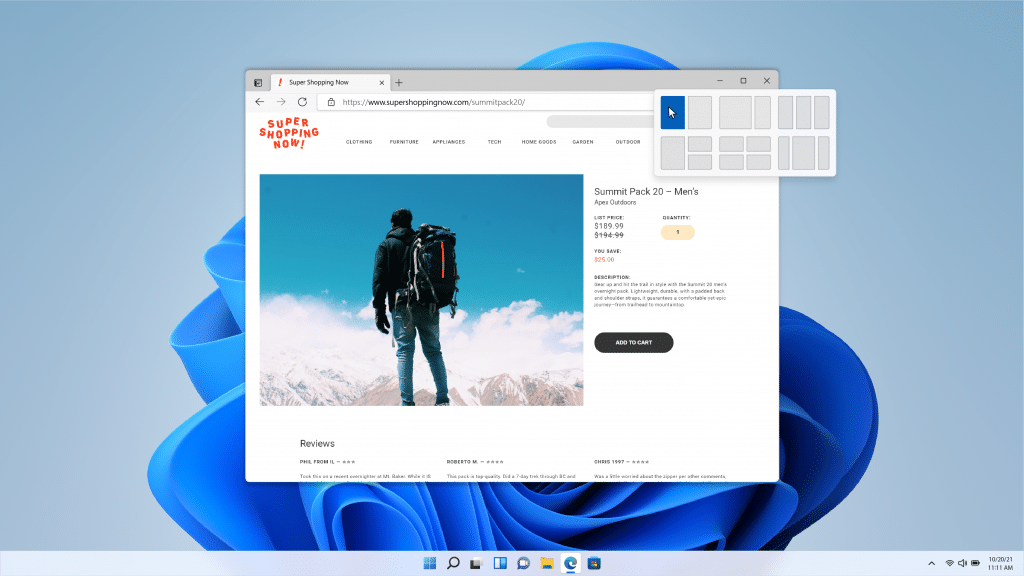 Finally, Windows 11 puts these options to work to make using multiple desktops smoother, too. When you unplug a monitor (or remove your laptop from its dock), apps that were on the now-unplugged monitor will minimize so they don't get in your way. Once you reconnect that display, Windows will put them back where they were.
Integrated Microsoft Teams
Windows 11 will feature Chat, a part of Microsoft Teams, right in the taskbar. This lets you contact others through text, audio, or video chats. It's platform-agnostic, too, so you can talk to people using mobile platforms as well as Windows.
If you already use Microsoft Teams, this will make the communication app even smoother to use.
Improvements to the Microsoft Store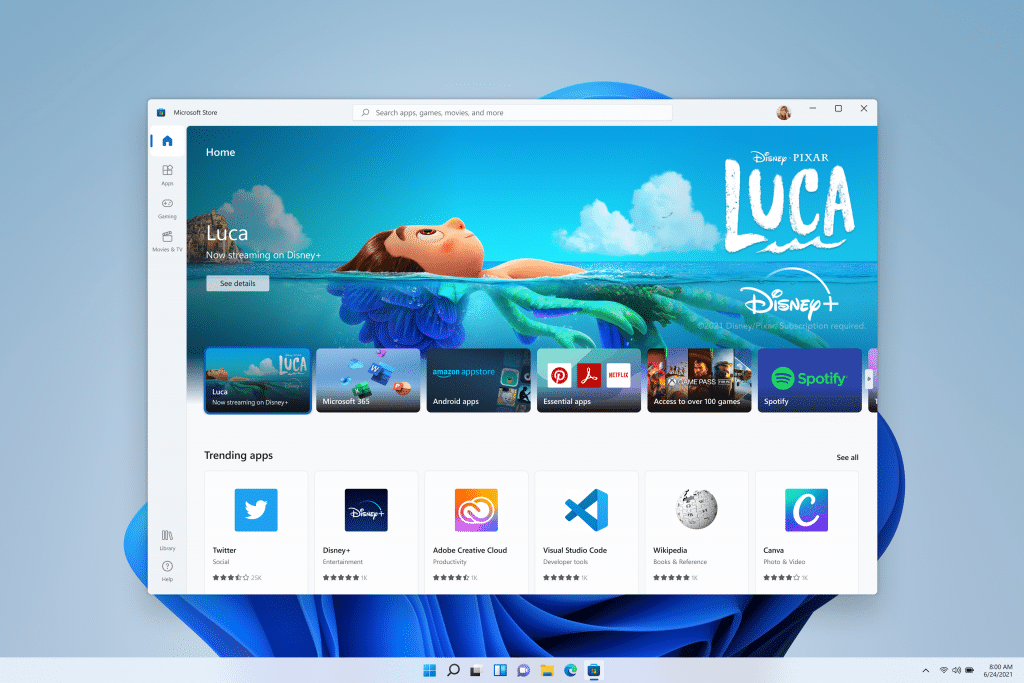 The Microsoft Store has been a bit of a mess in Windows for some time. Even though it improved in Windows 10, it's still mostly a jumble of fake and low-quality apps, and doesn't have a lot of the software that people actually use. In Windows 11, though, the Store is going to feature standard desktop Windows apps.
This means that you won't have to work on a watered-down version of your favorite software if you choose to install the Store version. Plus, Microsoft is letting developers use their existing commerce systems, letting them keep all payments without Microsoft taking a share.
Also, in Windows 11, you'll be able to run Android apps. Integration with the Amazon Appstore will make it easy to find your favorite Android apps.
Streamlined Updates
Even though Windows 10's update structure has gotten better over the years, it's still not perfect. In Windows 11, Microsoft plans to improve them even more. Now, updates will be 40% smaller, and will run in the background so you don't have to think about installing them.
Microsoft is also dropping the schedule of launching two big updates per year that it did with Windows 10. Windows 11 will get one major update per year instead, like every other major OS does.
Will I Get Windows 10?
If you're on Windows 10, Windows 11 will be a free upgrade. And as usual, once Windows 11 launches, PCs will begin shipping with Windows 11 already installed.
What's causing some waves is that the requirements to run Windows 10 are fairly strict. The base requirements aren't anything heavy: you need at least a dual-core 1GHz 64-bit processor, 64GB of storage, and 4GB of RAM. You also need a DirectX 12-compatible GPU and UEFI-compatible firmware.
However, your processor also must be at least an 8th-gen Intel CPU, or an AMD Zen 2. You also need a TPM 2.0 chip in your device, which many older machines don't have.
If you're not familiar, TPM stands for Trusted Platform Module. This is a chip that's part of the motherboard and makes encryption more secure. The TPM stores part of the encryption keys that your computer generates, which keeps those keys safer from an attacker or malware.
This is likely going to prevent a lot of people who can run Windows 10 from upgrading to Windows 11. In some cases, your computer might have a TPM, but it won't be enabled in the UEFI/BIOS.
If you'd like to see whether your computer will run Windows 11, you can download Microsoft's PC Health Check app (direct download). This will run a quick test to see if your machine is Windows 11-ready. If it's not, chances are that you'll need to enable the necessary security features in the UEFI.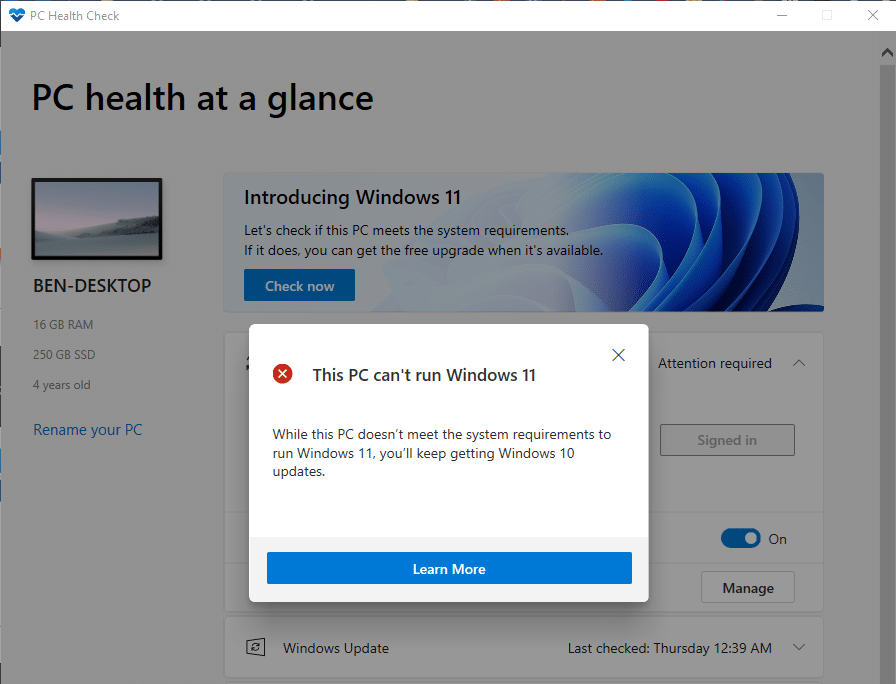 You don't have to jump to Windows 11 just yet, however. Microsoft has stated that it will support Windows 10 through October 2025, so you'll continue to get updates for a while longer. This means that the company will support Windows 10 for a bit over 10 years.
If you are one of our customers using Windows 10 in your business, we will review your company's situation and decide when it's right to upgrade your machines to Windows 11.
Windows 11: The Future?
Overall, it looks like Windows 11 is a modest but interesting upgrade. There's an old adage that every other version of Windows is lousy, so hopefully that doesn't hold true with Windows 11. If Microsoft takes its time and focuses on features people actually use, then Windows 11 could even surpass Windows 10.
While you wait for Windows 10, why not check out the most useful features in the Windows 10 Settings menu?
Image Credits: Microsoft