While changing your computer wallpaper isn't an essential productivity trick, it is worth refreshing your desktop background every once in a while. Setting a new wallpaper can be a great way to stay motivated or make your computer feel more welcoming.
While personal photos make for good wallpapers, there are hundreds of resources online to find other backgrounds. We'll introduce you to a few.
Key Tips About Wallpapers
Before we get into the proper list, there are a few useful points to remember that apply to all sites.
Most wallpaper sites have an option to sort by the image's resolution. They'll often detect your monitor resolution automatically, but you can use a site like WhatIsMyScreenResolution to quickly check your monitor's dimensions if you're not sure.
Windows makes it easy to create a slideshow of wallpapers, so don't be afraid to download a bunch. Save them all to one folder and you can have your computer shuffle them. On Windows 10, head to Settings > Personalization > Background. Set the Background dropdown to Slideshow, then choose the folder you created. You can then choose how often to change the image.
Finally, if you don't see a dedicated Download button for a wallpaper, remember you can right-click an image and choose Save image as to download it.


This wallpaper site has lots of options and has options for you to easily to find anything you're looking for, making it a good all-around wallpaper resource.
On the right side, choose from several categories like Animals and Music, or try Top wallpapers at the top to see what others like. Using the left sidebar, you can search by resolution to filter by wallpapers that will fit your monitor perfectly.
On a wallpaper's page, click the image to open it in your resolution automatically (if available). There are also sizes available for other purposes, like cover photos for Facebook. The only drawback is a small watermark in the corner of the images.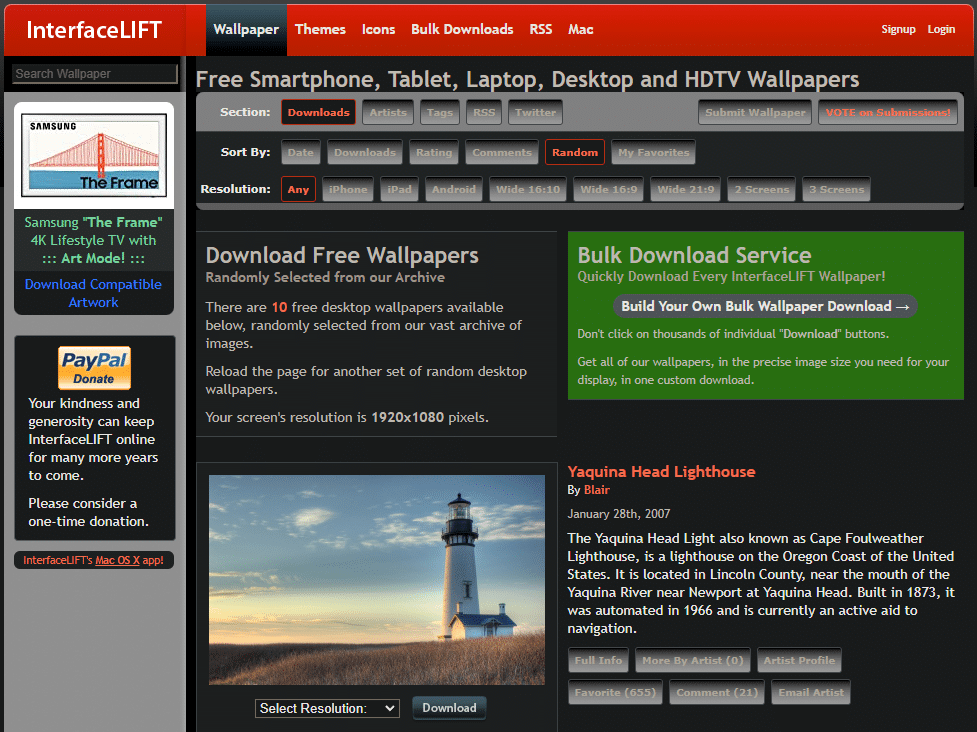 This site includes over 3,000 wallpapers. Unlike other pages that include all sorts of themes, the images on InterfaceLIFT are all photographs of beautiful landscapes on earth. You'll find stunning photos of oceans, cities, sunsets, mountains, and much more.
Each image includes a description from the photographer to learn more about the story behind the image. And while the wallpapers download quickly, the site also includes a Bulk Download Service to grab many in one go. This comes with a fee, but if you love the wallpapers on this site and want to get a lot of them on your PC without spending time downloading them one-by-one, it may be worth it.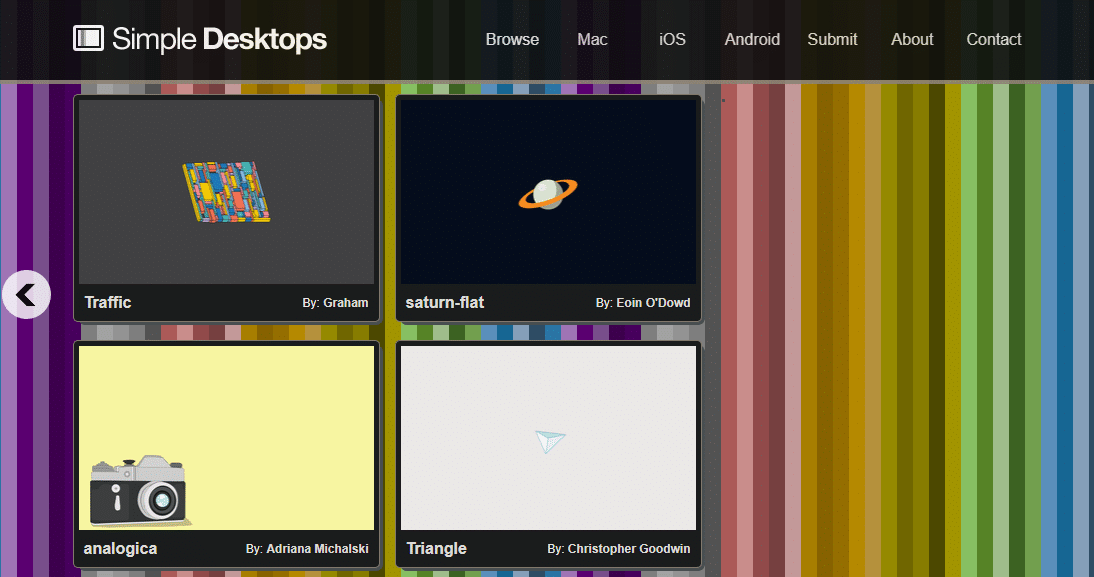 If you find the backgrounds on the other sites too busy, you'll love this page. While Simple Desktops doesn't have the high quantity of other wallpaper resources, all its images are minimalist and feature clean drawings with flat color backgrounds.
You'll find a cartoon watermelon on a red background and a simple spotlight shining, for two examples.
4. Various Subreddits on Reddit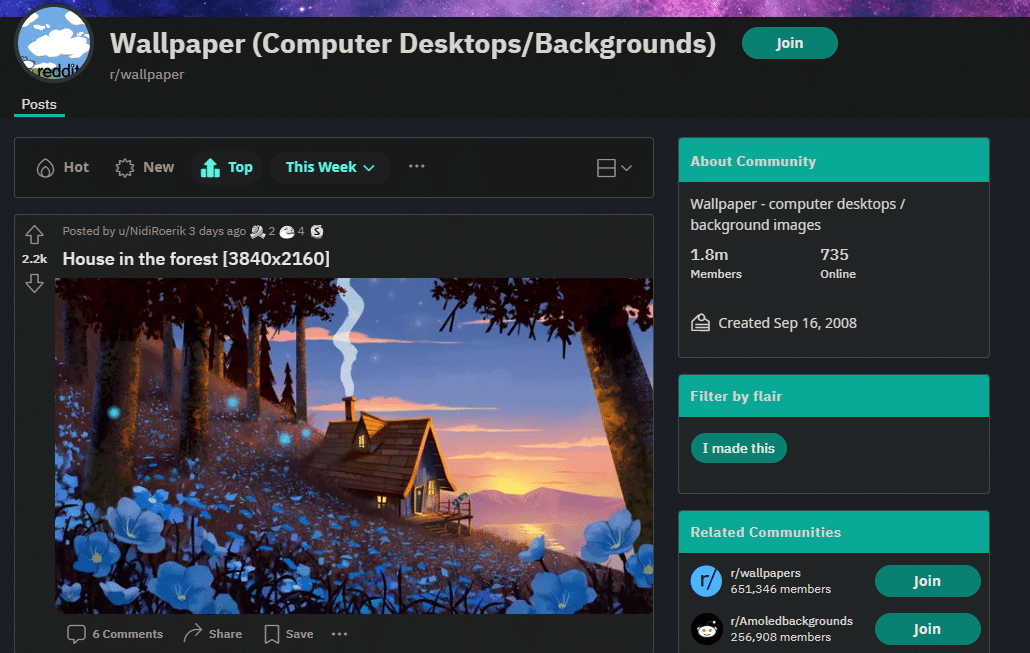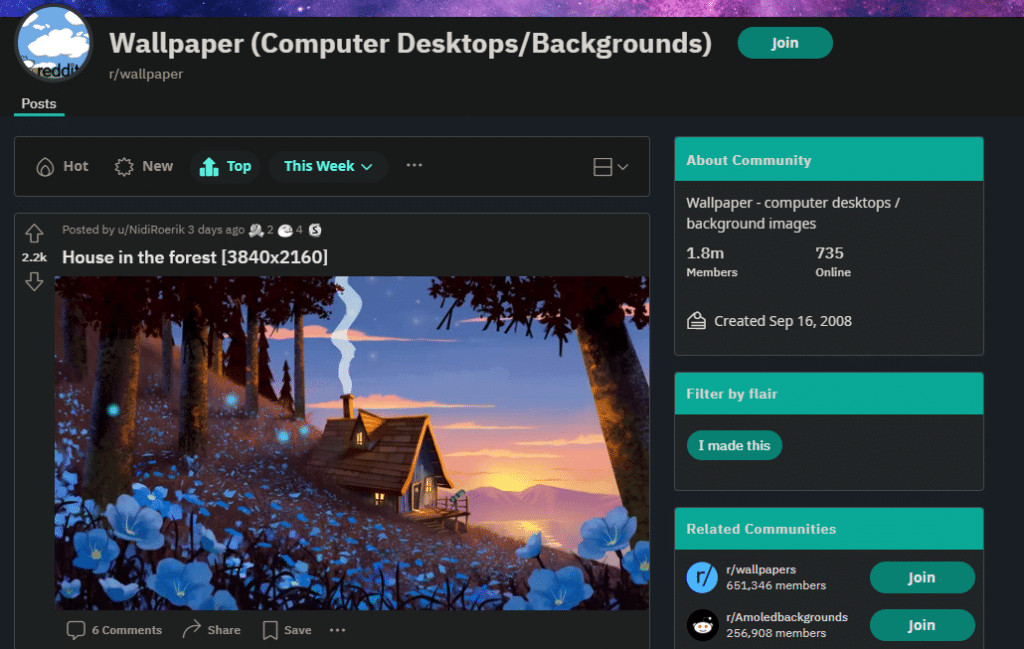 Reddit is a great place to find a community built around anything, and desktop wallpapers are no exception. There are several subreddits dedicated to sharing cool wallpapers.
Have a look at /r/Wallpaper and /r/Wallpapers (these aren't the same) for plenty of options. These wallpapers are user-submitted, meaning you'll find fresher content than what's available on the others.
Try sorting by Top to see what others have loved lately.
Tons of Wallpapers to Enjoy
With these sites, you'll have the choice of thousands of high-quality wallpapers to adorn your desktop. Try one new favorite, or grab a bunch and shuffle them on a schedule to keep them from getting stale.
Speaking of desktops, see our guide to using virtual desktops in Windows 10 if you aren't already taking advantage of this feature.