Last Updated on January 7, 2019
You likely work with many different people in your job. Whether it's the people you team up with every day, or new connections you form, keeping track of them is important.
Recently, Microsoft has added LinkedIn integration to Outlook in Office 365. This lets you see LinkedIn information about contacts new and old without visiting the website. Here's how to set it up and what it offers.
LinkedIn and Outlook
If you didn't know, Microsoft acquired LinkedIn in December 2016 and has owned it since. Since LinkedIn is such a major business-oriented social service, and Outlook is widely used by companies worldwide, it makes sense to pair them up.
Outlook's new LinkedIn integration lets you connect your Microsoft and LinkedIn accounts. By doing so, you share basic info between them (like your contacts and calendar) to make both work even better.
For example, if you want to email someone you're connected with on LinkedIn but don't have their email address in your Outlook contacts, you won't have to open the LinkedIn website and copy their address. The Outlook integration will auto-complete LinkedIn contacts for you.
Another use case is letting you learn a bit about people you haven't met yet. If you're scheduled for a meeting with someone you don't know, the LinkedIn integration with your calendar will let you see a bit about that person before you meet them.
How to Connect LinkedIn and Outlook
This integration is available for Office 365 users, and will roll out to everyone in 2019. Your organization must first enable the integration features, so if the below doesn't work for you, check back later to see if it's ready yet.
Alternatively, if you want to give it a try right away, you can use the new Outlook web app. To do this, visit Outlook Web and click the Try the new Outlook slider at the top-right. After the view refreshes, you can follow the below steps.
First, open Outlook (or Outlook Web) and view someone's profile card. To do this, just click on their profile picture in any email. You should see a LinkedIn icon below their profile picture next to the Send email and other icons.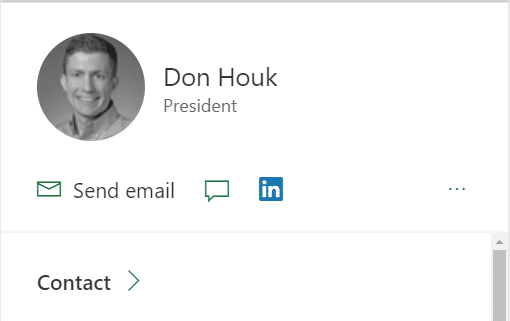 When you click this LinkedIn icon, you'll see a prompt to connect your LinkedIn account with your current Microsoft account. Click Continue to LinkedIn, then you'll need to sign in with your LinkedIn credentials if you're not already logged in.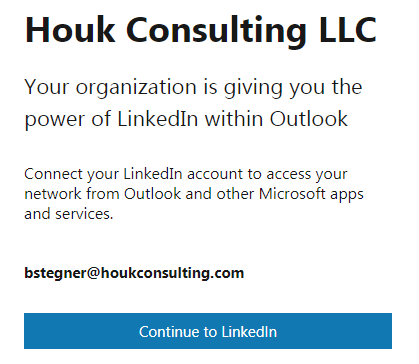 Confirm the connection, then you're all set.
Integration Features
Once you've connected LinkedIn and your Microsoft account, what can you expect?
When anyone sends you an email, click their profile picture to open their contact card. After you click the LinkedIn button, you'll see more information about them from LinkedIn.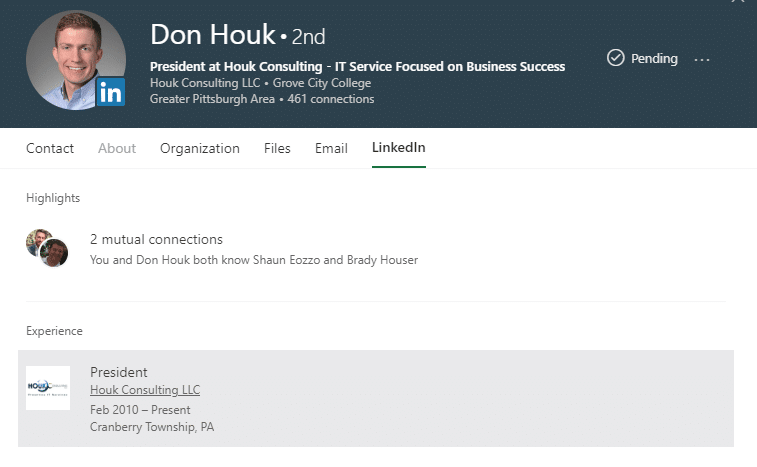 When you compose a new email, after typing a few letters in the To field, you may also see LinkedIn contacts appear. And don't forget that you can click the profile pictures of people invited to events with you to view their LinkedIn info too.
LinkedIn and Outlook Make a Great Team!
That's all there is to connecting LinkedIn and your Microsoft account. If you rely on LinkedIn to keep track of your professional network and often contact people through it, this is a great way to work more efficiently in both of them.