As you may know, updates are critical for keeping your computer safe. Having the latest patches installed protects you from exploits that target older versions, plus it gives you access to current features.
Let's look at how to stay on top of updates in Windows 10 so you don't miss out on any important fixes. Keeping everything patched in a timely manner will boost your security considerably.
Keep in mind that using our remote management tools, we take care of updates for our clients. But since automatic processes aren't always perfect, this information is still useful in cases where you need to manually run updates or for keeping your home computer safe.
Using Windows Update to Update Windows 10
The most important element to update is your OS itself. Windows 10 receives a new major version (called a feature update) roughly twice a year, along with smaller patches regularly. In Windows 10, Windows Update works on its own to install these, but you can still change a few settings to make it convenient for you.
Head to Settings > Update & Security > Windows Update to see the status of Windows Update. Here you can check for updates and install any optional updates that are pending. Windows will let you know when you need to restart to finish an update both here and by changing the Shut Down and Restart options in the Start menu.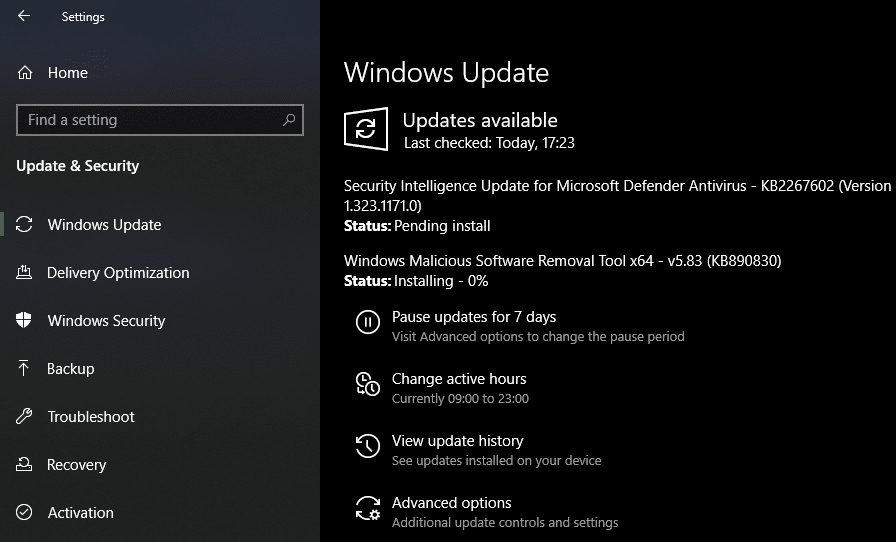 This page also has options that let you control how Windows Update works. Click Change active hours to set a time period when Windows won't automatically restart your device for updates. Head into Advanced Options to decide if you want other Microsoft products to update with Windows, show a notification when an update requires a restart, and delay updates for up to 35 days.
Other than these tweaks, you don't need to do much to keep Windows Update running smoothly.
Updating Microsoft Store Apps
Apps from the Microsoft Store (sometimes called Modern apps), all update from one panel in that app. This is also where preinstalled Windows 10 apps like Maps and Weather update, so it's worth checking every once in a while.
To visit it, open the Microsoft Store by searching for it in the Start menu. Once you have it open, click the three-dot menu in the top-right and choose Downloads and updates. Here you'll see the apps that were recently updated on your device, with pending updates at the top.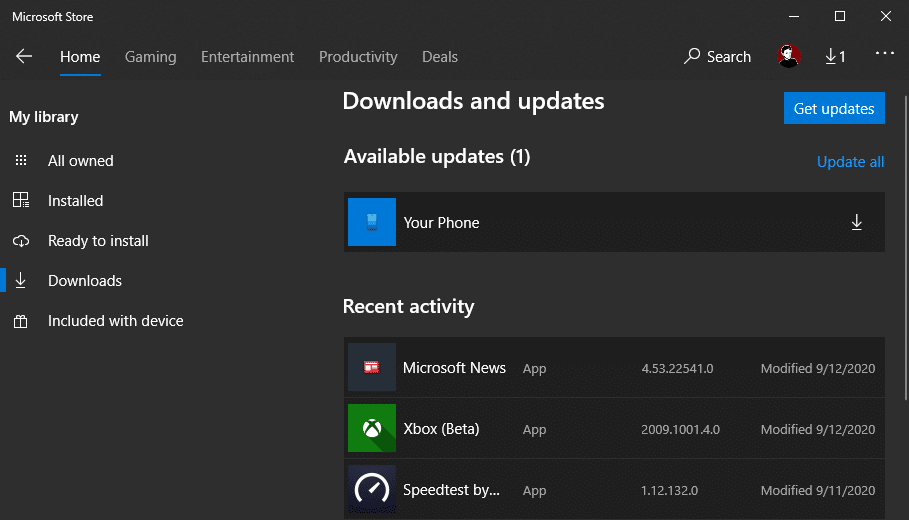 Click Get updates to check for the latest updates, then Update all or the individual download icons to install updates for pending apps. To do this automatically in the future, choose Settings from the three-dot menu and make sure Update apps automatically is enabled under App updates.
With this handy panel, you don't have to hunt for Store app updates manually.
Updating Desktop Apps
While the above two categories are simple, desktop software isn't so standardized. Thankfully, many apps, including most browsers like Chrome and Firefox, install updates automatically so you don't have to do anything.
Other desktop apps automatically check for updates and alert you to new versions when they become available. Sometimes these install in the background with one click, while other apps simply direct you to their website to download the latest app installer.
In a lot of software, you'll find a Check for updates command on the File or Help menu. Another common location for update checks is on the About [app] screen, which a lot of browsers use. It's not a bad idea to check this regularly, especially for software you use often.
Managing updates for dozens of desktop apps can become difficult; it's especially tough to keep apps updated that you don't use all the time. Give the free Patch My PC a try if you struggle to keep up.
This tool scans your computer for outdated software and lets you update everything with a click. By default, it runs the installers silently in the background, so you don't have to click Next through a bunch of dialog boxes. It's easy to skip updates if you don't want the latest version of an app, and automatically ignores bundled junk during installs.
If you have a lot of apps installed, this will save you a ton of time.
Driver Updates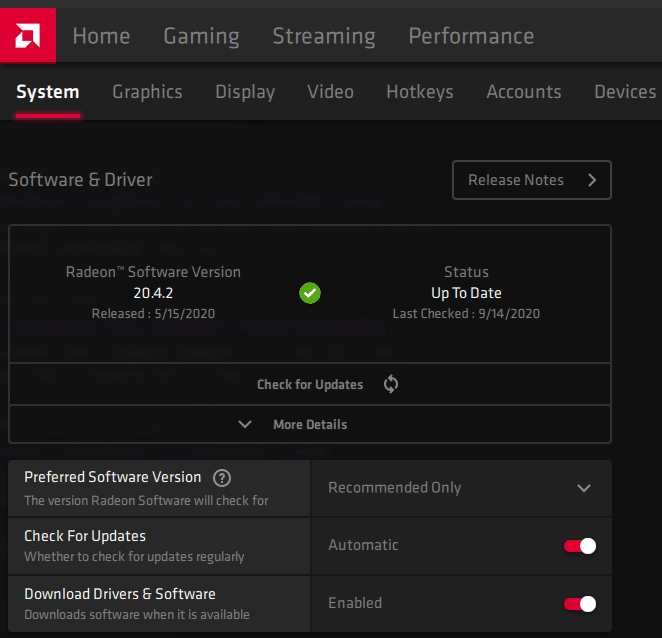 The above covers the majority of update scenarios, but you should also know about driver updates.
These control how hardware like your mouse, video card, and printer interact with your computer. Most of the time, you can follow the "if it's not broke, don't fix it" rule with these. Windows updates some drivers through Windows Update, and if you have a dedicated graphics card, the Nvidia or AMD software will alert you of updates for your graphics driver.
Some manufacturers include their own update software with Windows. These can install driver and other updates, which are worth checking if Windows Update doesn't take care of them.
Other than that, you shouldn't need to worry about these updates unless something goes wrong.
Our Automatic Updates for Clients
As mentioned earlier, our remote management tools simplify all of the above so you don't have to worry about updating manually most of the time. We can easily control what updates are installed and when they arrive, so you don't have to worry about this or having updates interrupt your work.
You can take the above manual actions when needed, but this takes up a lot of time, so you should only do it when you must.
If you don't have a managed IT service for your business yet, walking through the above on dozens of devices is time-consuming. Contact us today to see how our service makes this and other aspects of your technology infrastructure much simpler.
Keep Everything Updated
With Windows, apps, and drivers up-to-date, you've gone a long way towards keeping your computer secure. As more apps update on their own these days, it's not as much of a hassle as it once was. But you never know when someone will find a critical vulnerability in Windows or an app, so being proactive is vital.
For more Windows tips, check out handy features in the Windows 10 Settings menu.